March 2023 Regular School Board Meeting Warwick Public School is inviting you to a scheduled Zoom meeting. Topic: March 28 2023 RBM Time: Mar 28, 2023 05:15 PM Central Time (US and Canada) Join Zoom Meeting
https://us02web.zoom.us/j/88117532882
Meeting ID: 881 1753 2882 One tap mobile +16699009128,,88117532882# US (San Jose) +17193594580,,88117532882# US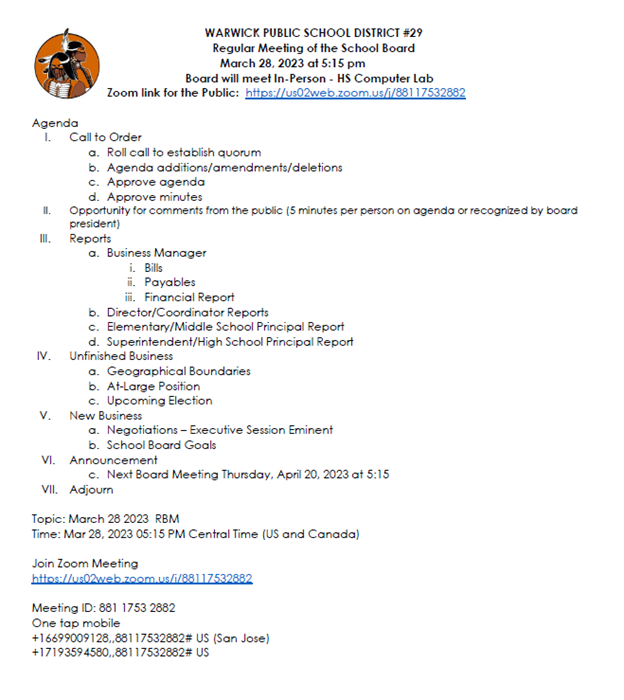 Special School Board Meeting Topic: March 23 2023 SBM Time: Mar 23, 2023 05:00 PM Central Time (US and Canada) Join Zoom Meeting
https://us02web.zoom.us/j/82118312745
Meeting ID: 821 1831 2745 One tap mobile +16694449171,,82118312745# US +16699009128,,82118312745# US (San Jose)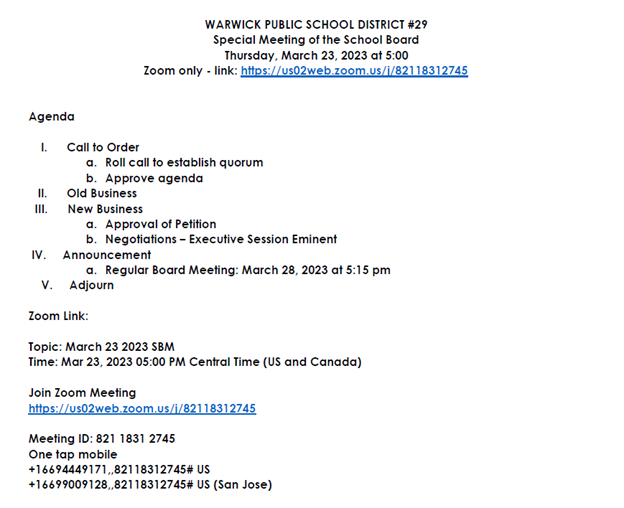 Hello Warrior Parent/Guardians, after school buses are running 15-30 mins late due to bus issues. We are working on getting kids home as soon as possible. Thank you for your patience!

Hello Warriors! Due to expected high winds later tonight, parent-teacher goal conferences have been moved up in time from 2pm-6pm this afternoon. School will be dismissed at 1:30 today.
Pep Rally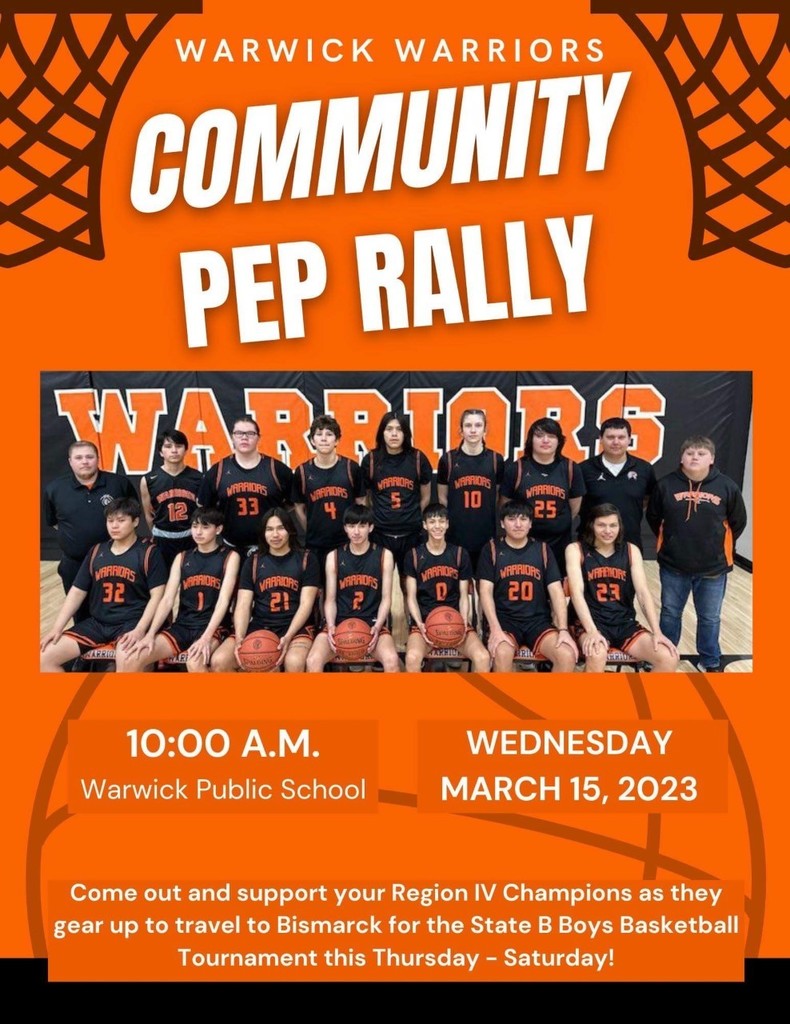 Mr. Day is at the Blue building. There are three single seats left. $66 dollars.

Mr. Day will be out selling the remainder of the Reserved seating tickets. Not many left. T-Shirts will be sold tomorrow at the Send off Ceremony, and all night at the Parent Teacher Conferences. Go Warriors

There will be a special school board meeting on Monday, March 13, 2023 at 4:00. This is a zoom only meeting. Topic: March 13, 2023 SBM Time: Mar 13, 2023 04:00 PM Central Time (US and Canada) Join Zoom Meeting
https://us02web.zoom.us/j/81154730561
Meeting ID: 811 5473 0561 One tap mobile +12532158782,,81154730561# US (Tacoma) +13462487799,,81154730561# US (Houston)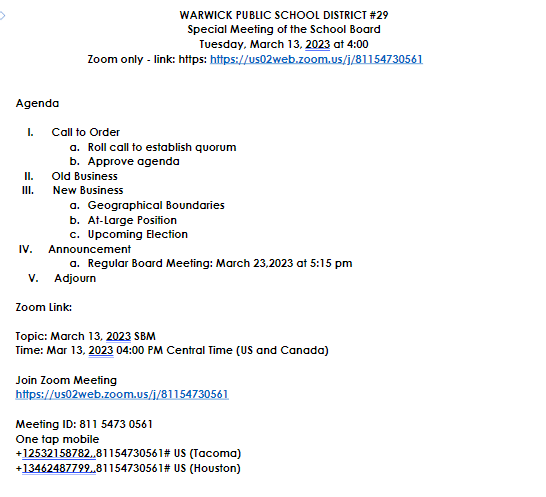 There will be a special school board meeting on Tuesday, March 14 @ 5:00. This is a zoom only meeting. Topic: March 14, 2023 SBM Time: Mar 14, 2023 05:00 PM Central Time (US and Canada) Join Zoom Meeting
https://us02web.zoom.us/j/85625321281
Meeting ID: 856 2532 1281 One tap mobile +17193594580,,85625321281# US +12532050468,,85625321281# US

Mr. Day is now at the blue building in the community room entrance.

Mr. Day will be selling tickets at Warwick school until 11. Then he will be at the Blue Building at 12. Plenty of tickets left, come and get them before the reserved seating is sold out. Have a great day. Go Warriors.

WPS Schedule for Week of March 13-17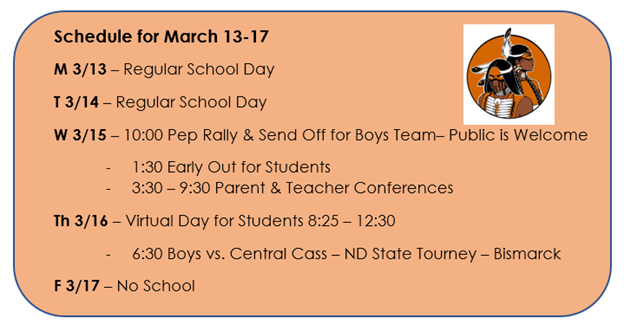 Mr Day will not be out selling tickets today. Stay home and be safe. #WarwickState

State Tickets. We have Reserve seating tickets available for purchase. No holds or splitting into single sessions. $66 for all the sessions for all three days. Come on in to Warwick to purchase from Mr. Day. We will take cash or check. I will be at the school until 3 pm. Drive safe.

Hello Warriors! Due to inclement weather, school will be dismissed at 2:30pm today.

We are preparing for the possibility of inclement weather so we will be sending devices home in case we must do virtual learning on Monday. We will send out an all-call Monday morning, so everyone knows what we are doing. Thank you!

Good Morning Warriors, School and buses will be two hours late this morning. Buses will travel where possible.

Region 4 Championship Game. Warriors will be in action tonight around 7:30 pm tonight against North Star for the right to go to STATE. Remember to cheer loud but be respectful. Go Warriors. NDHSAA MINIMAL BEHAVIOR EXPECTATIONS FOR REGULAR AND POSTSEASON COMPETITIONS: Respect the American flag and the National Anthem. Contesting schools shall each have an authorized faculty representative present who shall be responsible for his/her school's participants, students, and fans throughout the contest. Spectators must wear clothing that covers the entire torso. Those who do not comply or who wear clothing that is vulgar, obscene or that in some other way inappropriate, as determined by school/tournament personnel, will be removed from the facility if they do not cooperate with this behavior expectation. The use of appropriate language is expected at all times. Profanity, negative chants, trash talk, name-calling, personal attacks or other acts of disrespect are unacceptable and must be immediately addressed by school/tournament administrators. Any discriminatory slur will result in immediate removal from the facility. Any attendee ejected from a NDHSAA tournament venue will be banned from the venue(s) for the remainder of the event. Respect the game/contest. Under no condition shall anyone other than the members of the official squad enter the playing surface. No one may interfere with the contest in any way. Hand held signs and flags, which do not obstruct the view of others, are permitted provided they are in good taste. Signs or other similar items contest/tournament officials deem to be in poor taste will be removed. Message or "white" boards are prohibited. The carrying of flags around the playing surface is NOT allowed. Artificial noisemakers of any kind (i.e. megaphones, cowbells, sirens, whistles, thunder sticks, and other similar items) are not allowed at any indoor events, including outdoor sports played at indoor venues. Exception – Megaphones appropriately used by cheerleaders are permitted if allowed by contest officials. Laser lights or any other lights deemed distracting to participants are strictly prohibited. Confetti is banned at all NDHSAA tournament venues. Tournament staff is instructed to confiscate such articles at the door. Objects shall not be thrown into the stands at any NDHSAA tournament venue. The use of unmanned aerial vehicles (UAV), also known as drones, is prohibited for any persons at NDHSAA tournament venues.

Pep-Rally will be tomorrow, 3/9, at 2pm held in the Warwick School gym!